Answered By: Sheila Cornelisse

Last Updated:

Jul 17, 2017    

Views:

34609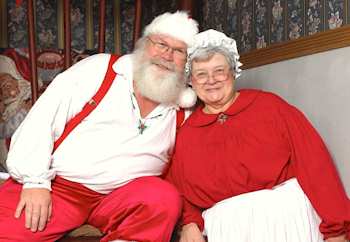 Hello Lauren
There are many legends about who Santa Claus was and is. Mrs. Claus has been given a few different names depending on what history or movie you refer to.
It is believed that the first Santa Claus was Saint Nicholas. Saint Nicholas was a monk and therefore did not marry.
The Santa Claus that we know lives in the North Pole. According to some North American sources, his original name was Kris Kringle before he changed his name to Santa Claus. Kris Kringle was a toymaker who married Jessica.
Other names found for Mrs Claus are Mary Christmas, Gertrude, and Carol.
This may be a good question to ask Santa when you write to him this year.
Comments (11)
Hi ms.claus i want you to bring
Me aome presents but i dont have nno Christmas tree.

That's okay Mckayla. You don't need a Christmas tree to receive a present.

Dear Santa,How comes I really never get to see you at night while putting my presents my friends will like to know to

I have never seen Santa either Parinaz, but if we truly believe in him and the magic of Christmas, we can see him with our hearts and our imaginations. Maybe he likes it better that way and has special powers to cloak himself from human sight so we can keep on believing. Sorry, I don't have an answer to this one.

Hi!! I would really like a Xbox for christmas, but its okay if you dont want to give me one, i just want peace and my hair dyed.. Love, Haylee M.

hello mrs claus i love your first name my first name is marin

Dear, Mrs. Claus what is your full name

The Catholic church's position on celibacy recommendations did not occur until the Council of Nicea which was well past St Nicolas' tenure.
It is possible he was married.

I have been a little bit naughty but I have said sorry am I still aloud a present.can you please get my sister's something they are called Isabelle and Lyla they are 4 and 2 .
Love Olivia❤❤❤❤❤❤❤❤

i want........................................
-liz😁😁😁😁